Home Sales Dropped 43.5% In September
The Real Estate Board of Greater Vancouver (REBGV) reports that residential property sales in the region totalled 1,595 in September 2018, a 43.5 per cent decrease from the 2,821 sales recorded in September 2017, and a 17.3 per cent decrease compared to August 2018 when 1,929 homes sold.
Last month's sales were 36.1 per cent below the 10-year September sales average.
"Fewer home sales are allowing listings to accumulate and prices to ease across the Metro Vancouver housing market," Ashley Smith, REBGV president-elect said.
The September Greater Vancouver home sales was below the 10 years average sale around 2,600 homes. Home sales peaked in spring of 2016 and finished the year with a total of 39,943 homes. Yearly home sales dropped from 2015's total of 42,326 to 39,943 and 35,993 in 2016 and 2017 respectively. The total 2018 home sales from January to September was 29% lower than that of 2017 when only 19,973 sales were registered for 2018 compared to 28,160 sales for the same period in 2017.
If the remaining 3 months of 2018 add another 6,657 homes to the todate sale figure, 2018 would end up with total home sale around 26,630 units which is around 24% lower than 2017's sales of 35,993 homes.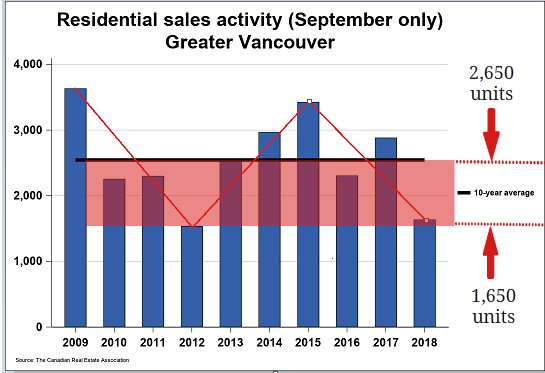 Rising Insterest Rates
The gradual rise in interest rates since October 2017 dampened home sales, especially single family detached homes. The demand for resale and presale townhouses and condos the past few months had slowed, but interest remain faily strong.
The tightening of mortgage qualification rules by Canadian Banks has a significant effect on home buyers ability to service their loans, thereby reducing the number of home buyer's qualifying for mortgage loans.
HPI Benchmark Price
The HPI benchmark price for detached homes peaked in May, 2017. Both townhomes and condos reached their peak prices about a year later in July, 2018. The price trend lines for the 3 housing types are showing around 25% over-valuation. This means that home prices could risk substantial price declines if market sentiment turns bad, causing home buyers to stay away from the market.
According to Mr. Dane Eitelan, an analyst at Eitel Economics, Vancouver's detached home price was predicted to drop 23% from its 2017 peak (over a period of 2 to 3 years) to bottom out in 2020 or 2021.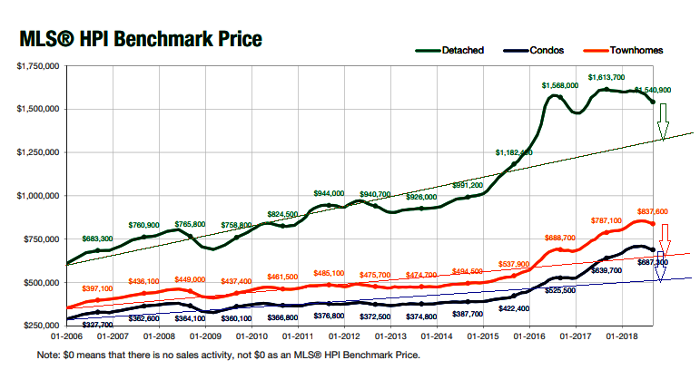 Housing Forecast For 2019
The British Columbia Real Estate Association is forecasting the housing market in 2019 to remain stable. Multiple Listing Service (MLS®) residential sales in the province are forecasted to decline 21 per cent to 82,000 units for 2018 compared to 103,768 units sold in 2017, and recover 8% to 88,700 units in 2019.
REBGV is forecasting resale home sales for 2019 and 2020 to stay above 40,000 units.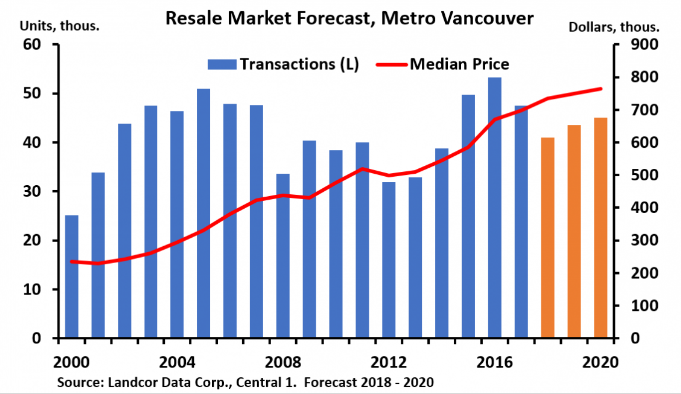 We hope you will visit our website again soon to learn more about the Greater Vancouver real estate market.